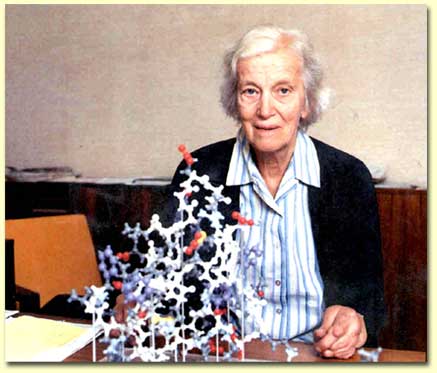 Dorothy Crowfoot Hodgkin
In 1969, after 35 years of work and five years after winning the Nobel Prize, Hodgkin was able to decipher the structure of insulin. X-ray crystallography became a widely used tool and was critical in later determining the structures of many biological molecules such as DNA where knowledge of structure is critical to an understanding of function. She is regarded as one of the pioneer scientists in the field of X-ray crystallography studies of biomolecules. [Wikipedia]
In 1965 she was the first woman since Florence Nightingale to be awarded the British Order of Merit, and in 1965 she was the third woman ever to win the Nobel prize for Chemistry. She used the Nobel money to sponsor a scholarship and to fun peace work and famine relief. [Remember the Ladies, Kirsten Olsen]
Honours, awards and legacy
Apart from the Nobel Prize in chemistry in 1964, she was the second woman to receive the Order of Merit in 1965 (preceded only by Florence Nightingale), the first and As of 2014 only woman to receive the Copley Medal, a winner of the Lenin Peace Prize, and was Chancellor of the University of Bristol from 1970 to 1988. She was elected a Fellow of the Royal Society (FRS) in 1947. She was awarded an Honorary Degree (Doctor of Science) from the University of Bath in 1978. In 1958, she was elected a Foreign Honorary Member of the American Academy of Arts and Sciences.
In 1983, Hodgkin received the Austrian Decoration for Science and Art. In 1966, she was awarded the Iota Sigma Pi National Honorary Member for her significant contribution.
The Royal Society has established the Dorothy Hodgkin fellowship for early career stage researchers.
Hodgkin was one of five 'Women of Achievement' selected for a set of British stamps issued in August 1996. The others were Marea Hartman (sports administrator), Margot Fonteyn (ballerina/choreographer), Elisabeth Frink (sculptor) & Daphne du Maurier (writer). All except Hodgkin were Dames Commander of the Order of the British Empire (DBEs). In 2010, during its 350th anniversary, the Royal Society celebrated with the publication of 10 stamps of some of its most illustrious members, bestowing Professor Hodgkin with her second stamp. She was in the company of nine men: Isaac Newton, Edward Jenner, Joseph Lister, Benjamin Franklin, Charles Babbage, Robert Boyle, Ernest Rutherford, Nicholas Shackleton and Alfred Russel Wallace.
Council offices in the London Borough of Hackney and buildings at King's College London, University of York, Bristol University and Keele University are named after her, as is the science block at Sir John Leman High School, her former school.